Dealer.com Advertising
Dealer.com Advertising powers optimally relevant ads with Kia-aligned creative across the digital channels that drive vehicle sales – retargeting, paid search, display on major content networks and premium automotive research sites, and social media. Campaigns reach shoppers at every stage in their shopping process – from awareness, to consideration, to purchase intent – working together to broaden your website audience and keep visitors returning until they're ready to come to your showroom.
Pricing & Packages
Enroll
---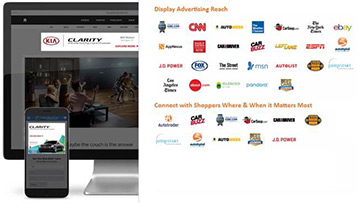 Retargeting & Display Advertising
Fueled by the industry's most powerful data-targeting, Dealer.com Display drives new customer demand and retains existing shopper interest more effectively than any other advertising technology. Equipped with display fraud prevention, Dealer.com Display delivers the most cost-efficient, effective ads possible across multiple in-market networks. Strategically targeted campaigns deliver compliant and impactful inventory ads to potential buyers virtually everywhere they travel online, influencing their decisions throughout their path to your showroom.
Premium Display, Powered by Jumpstart: Our Premium Display network reaches shoppers across leading automotive-specific research sites like Kelley Blue Book, Car & Driver, U.S. News Best Cars, NADA Guides (and more) and has more average monthly unique visitors than Edmunds.com and Cars.com combined.
Network Display, Powered by Real-Time Bidding: Behavioral and contextual targeting across every major content network!
---
Advertising Analytics
Dealer.com Advertising Analytics empowers dealers with the cutting-edge tools and transparent data needed to optimize marketing strategies and execute effective campaigns!
Advertising Analytics features an intuitive interface designed to deliver insight and foresight. Enhanced graphics make for quicker and more accurate analysis giving you the clearest picture of how your advertising campaigns are driving traffic and conversions from one centralized hub. Our advertising reporting includes a Campaign Details Report, Assists Report and Attribution Report. Other reports allow you to view your advertising assisted traffic. Key Features and Benefits:
Powered by the industry's most innovative data-targeting technology, Dealer.com Display drives new customer demand more effectively than ever before. Our technology works by connecting your website and inventory with every major digital advertising exchange, bringing you the following benefits:
Google Analytics-inspired user experience.
Multiple reports allow you to view the metrics you need to inform strategy.
Simplified visibility into your overall advertising performance and specific areas within your ad solution.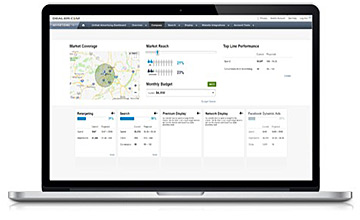 ---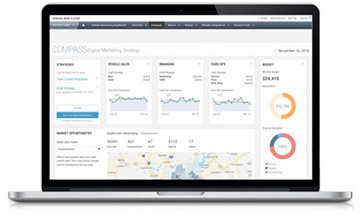 Compass
Empower your dealership with a comprehensive multi-channel digital marketing strategy tool fueled by exclusive market data and refined by your dealership goals!
Compass is a digital strategy platform that crafts an advertising strategy unique to your dealership and based on exclusive internal Cox Automotive and leading Polk automotive statistical data from IHS Markit. This strategy is then further customized with your dealership goals. The cornerstone of your digital marketing strategy, Compass constructs a comprehensive multi-channel advertising strategy ensuring you're able to reach the right customer with the right message at the right time.
A customized digital marketing strategy based on in-depth market data and your dealership goals.
Refine your strategy based on dealership revenue and profitability goals.
Customized vehicle and conquest prioritization.
Managed a comprehensive multi-channel advertising strategy, including fixed ops, new and pre-owned inventory, and local branding.
Strategy summaries to provide full visibility into your digital marketing goals and strategic channel investments.
See your market, budget, and performance all in one place.
---
Audience Targeting Powered by Autotrader, Kelley Blue Book and vAuto
Real-time advertising automation that accelerates demand more efficiently and effectively than ever!
With Dealer.com Audience Targeting, you can reach Kelley Blue Book and Autotrader shoppers and direct them back to your website through highly relevant, targeted display advertising. It's the most powerful and efficient way to reach a critical audience never before accessible, and to capitalize on existing demand in your market.
Best-in-Class machine learning, and real-time bidding powered by Autotrader and Kelley Blue Book audience data, delivering relevant, efficient advertising.
Enhanced on-site behavior targeting capability allows you to reach shoppers who have viewed specific makes, models, or body styles.
Complete integration to drive traffic directly to your website.
Extensive display inventory across multiple ad networks.
Roll-up reporting through Dealer.com.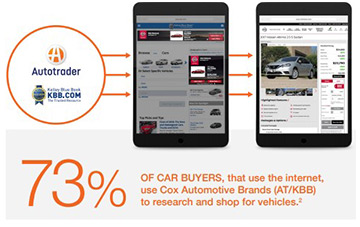 ---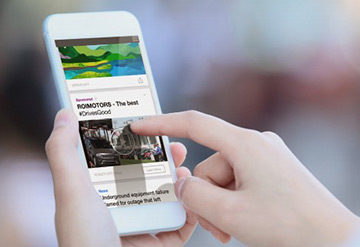 Video Advertising
Connect Facebook and YouTube audiences with your dealership experience using video!
Dealer.com Video Advertising gives you the ability to build brand and inventory awareness in your market in a dynamic and engaging video format. Our Video Advertising campaigns can align with your specific sales and fixed operations digital marketing strategy, in multiple formats, available on both mobile and desktop devices.
---
vAuto Integration
Leverage vAuto market data for more effective Paid Search and Facebook Advertising!
Dealer.com's exclusive vAuto integration helps you match the right inventory to the right advertising channels to take your search and social investment to the next level. This powerful partnership now allows you to use real in-market demand and pricing data to determine which inventory is better suited for search and which is better suited for Facebook campaigns. vAuto's proprietary market data also informs which features are highlighted in your Dealer.com paid search campaigns. The end result – more efficient ad spend for more clicks at a lower cost.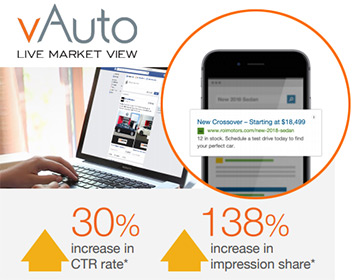 ---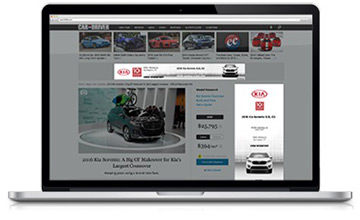 Dynamic Vehicle Ads
Dynamic Vehicle Ads let online shoppers browse your vehicles both before and after they visit your site, thus dramatically amplifying the exposure of your inventory!
Powered by the Unified Advertising Exchange, the ads can reach customers across 99% of the web, including premium automotive research sites like J.D. Power Autos and Car and Driver.
Dynamic Vehicle Ads leverage extensive shopper data and machine learning technology to intelligently match your vehicles with the shoppers most likely to buy them. After shoppers click an ad, they're directed to Vehicle Details Pages, and subsequently retargeted with the optimally relevant vehicles once they leave your site. The result? The highest click-through and view-through rates in the industry and more quality traffic to your site.
Dynamic Vehicle Ads are fully turn-key: They are created automatically from the same inventory feed that powers your website. That means no extra code on your site, no extra inventory feeds, and no extra logins.
---
Paid Search
Capture more existing demand with award-winning search solutions!
Dealer.com Paid Search is the most awarded and most trusted paid search solution in automotive. Fully integrated with your inventory, bolstered by vehicle-specific content for every ad, and in-tune with your OEM, Dealer.com Paid Search is proven to differentiate your dealership and capture the existing demand in your market.
Dealer.com Paid Search automatically launches regionally targeted pay-per-click campaigns on Google and Bing/Yahoo. Manage these campaigns on your own or rely on our team of in-house search marketing professionals trained to develop campaigns based on your strategy and budget.
Dealer.com is a Google AdWords™ Premier SMB Partner, which is part of an exclusive vendor group that meets Google's stringent qualification criteria:
Paid search campaign creation and optimization from one integrated tool.
Managed services option with automated pay-per-click campaign creation.
Reporting visibility accessible through the Unified Advertising Dashboard.
Deep-linking ad campaigns designed for higher relevance and conversion.
Custom targeting by geography, demographics and lifestyle attributes.
Incentives integration creates incentive-driven paid search ads from dealer and OEM data.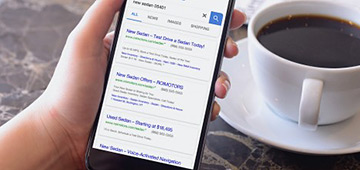 ---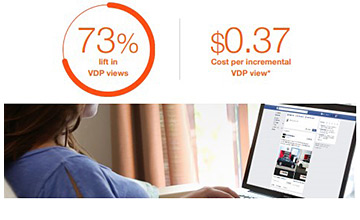 Facebook Advertising
Unlock the selling power of Facebook, now featuring In-Market audiences powered by Autotrader and Kelley Blue Book!
With over one billion users, Facebook is the most popular website on the planet. Its display ad network delivers a quarter of the world's total daily display impressions and, in the US, more than 13% of this audience is interested in cars. Dealer.com Managed Facebook Advertising campaigns combine Dealer.com proprietary technology with Facebook tools to strategically leverage your Facebook content for optimal reach and engagement.
Creative That Drives Conversion: We create a variety of ad units to best communicate your message, including "carousel" units that display up to four different vehicles and your dealership branding.
Targeted Advertising: Each dynamic ad unit is customized for each shopper, showing them the cars they are most interested in.
Lead Generation: With two simple clicks, customers can easily submit a request for more information, from the convenience of their Facebook Newsfeed.
Integrated: Your inventory is shared with Facebook to dynamically create the ad units.
Tracked: Get a clear picture of your investment with dynamic, performance reporting available 24/7 on your Dealer.com Unified Advertising Dashboard.