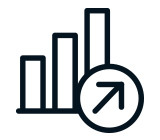 Kia Digital Consulting
In 2013, we developed the Kia Digital Consulting program to assist dealers with effective lead handling processes. This effort included a Digital Sales Playbook offering your dealership a series of best practices, designed to help your internet sales team. The Playbook and additional training material is available on KDealer in the Retail Sales section.
As shopping trends have changed, we broadened the scope of the Digital Consulting Program to better support your retail efforts. In addition to lead handling and digital sales support, our consultants can now help improve your Digital Marketing effectiveness and your store's Online Buying capabilities. We have also increased the consulting staff to support more Kia dealers. Lastly, we are now making digital consulting services available to all Kia dealers.
Consulting services are now being offered in 1, 3, or 6 month consult packages. In order to receive consulting services, you will need to complete the Kia Digital Consulting Program Participation Agreement via Kiwi. Ask your DSM if you have questions about completing the agreement. After completing the participation agreement, you can select the package that best fits your needs. Package pricing is tiered based on the number of consulting visits you would like and your current enrollment in KDCS programs. Dealers enrolled for a Certified Website, Digital Advertising and Digital Retailing program, will be offered the best package rates. If you are not enrolled in these three key digital programs, we encourage you to do so.
Kia Digital Consulting Program Information
Consulting Packages & Pricing
Dealer KDCS Participation Level
Silver
3 Consults
Gold
6 Consults
Website + Digital Advertising and Digital Retailing
$1,125 ($375/visit)
$1,800 ($300/visit)
Website + Digital Advertising or Digital Retailing
$1,500 ($500/visit)
$2,400 ($400/visit)
Website Only
$2,250 ($750/visit)
$3,600 ($600/visit)
Non-certified Website
$3,750 ($1,250/visit)
$6,000 ($1,000/visit)
Complete your enrollment information with package selection below. Your rate will be determined by your KDCS participation level at the time of your consulting package selection. Packages will be billed to your parts statement account the month following enrollment.