Digital Marketing by Dealer eProcess
We sell it different because we do it different. This is the only certified model that does not take a percentage of the ad spend, not for Kia or the provider. Every cent the dealer allocates for advertising goes to advertising, with no markup or commission of any kind. All of the servicing costs are upfront on a flat rate. The more aggressive the dealer is on digital advertising, the larger the amount saved through this model compared to all others.
The reason we charge based on a flat rate is because our campaigns are not fixed. It takes a lot of work to put together a custom campaign for a specific dealer, in a specific market, with specific objectives, for that month. We simply cannot afford to do all that work on a percentage basis for extremely small advertisers, nor should large advertisers pay a high percentage on everything they do. Fixed, or canned, campaigns use a variable cost method. Variable, or customized, campaigns, like Digital AMMP from Dealer EProcess, tend to use a flat rate method of pricing.
As the Kia brand grows, savvy Kia dealers understand their websites must meet the needs of a larger and more diversified audience, all of which are becoming increasingly internet dependent for their shopping and information needs. Backed by the latest responsive site technology – Responsive Server Side (RESS) – Dealer eProcess is poised to help Kia dealers reach ever higher levels of growth and profitability.
Pricing & Packages
Enroll
---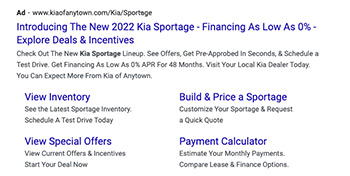 Dynamic Paid Search
Let us turn your own vehicle inventory into an unstoppable force of inventory-specific ads! Our proprietary dynamic inventory-based advertising system syncs up flawlessly with your inventory database, and generates ads for each specific vehicle on your lot. That means the ad served is the ad that fits their needs, which reduces the frequency of unwanted and unqualified clicks. This keeps your SEM costs down and your conversion rates up, and sets us apart from other SEM vendors.
---
Market Protection & Geo/Local Campaigns
Target your competition, dominate your area, and protect your brand with our Custom Foundation Search Campaigns. Using your dealership's unique selling proposition, we will create an ad campaign that targets real car buyers in your area, and force them to visit your showroom before anyone else's! Our strategy gives you the ability to force your competition as far off of the page as possible so that you are the only dealer the customer sees. Our advanced geo-targeting also allows us to not only dominate your home base, but gives you the option to spread your influence to areas where you can gain more market share. These campaigns are a crucial part of a strong marketing plan, and will allow you to remain in front of the competition no matter where the customer's searching!
---

Dynamic Inventory Based Remarketing
Empower your dealership with a comprehensive multi-channel digital marketing strategy tool fueled by exclusive market data and refined by your dealership goals!
Our dynamic remarketing system will take the vehicle images that customers specifically viewed on the dealer's site, and use those images to create remarketing banners to continue to advertise to the customer as they browse other websites to draw them back to the dealer's site.
---
Display Advertising
Whether you want a campaign designed for dealership branding, or something event-driven or model specific, we can do it. We'll design and place a targeted digital ad on hundreds of websites, and unlike traditional media, your prospects are only a click away from visiting you. You will find this to be a more cost-effective way of advertising, with a proven ROI.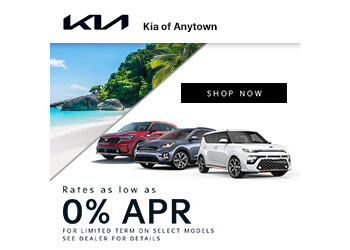 ---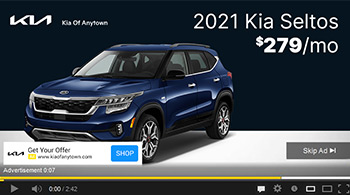 YouTube TrueView
With over 90% of 25-54 year olds watching YouTube every day, YouTube for Action Advertising is one of the best ways to increase awareness for your brand. Whether remarketing or targeting an in-market audience, you can effectively display your advertising message to your ideal shopper. YouTube for Action campaigns are cost effective and also allow you to add a custom Call-To-Action button to entice shoppers to come visit your website after they watch your video.
---
Dynamic Inventory Facebook Advertising
Target users after they visit your website with VDP Remarketing. This low funnel campaign will show vehicles images to shoppers on their Facebook News Feeds, Instagram Feeds and more after viewing a VDP page on your website.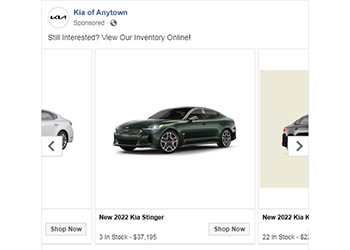 ---

Custom & Dynamic Search Marketing for Pre-Owned Inventory
With Custom & Dynamic Search Marketing for Pre-Owned Inventory, we will create paid ads for your vehicles on the fly! Our proprietary inventory-based advertising system with work alongside your inventory database to create vehicle specific ads for every vehicle on our lot. Ads are served to potential customers looking for that specific inventory, which eliminates unwanted clicks, and keeps your SEM costs down.
---
Service & Parts Campaigns
Our Parts and Service digital marketing system is built around three core marketing principles:
Flexibility: Customized marketing solutions crafted to fill your service lanes with customers
Technology: A precise, data-driven system managed by Certified Marketing Professionals
Transparency: With full account access, you see every dollar spent, leading to the highest levels of performance

---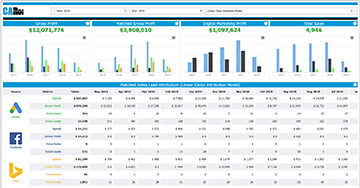 CARoi
We pull in all website and digital marketing data and match it to all DMS sales activity, providing a report that shows dealers what IS, and IS NOT helping sell cars. Tying together both online and offline data, 3rd party vendors, and more, we are able to give the exact formula of what produces the best results.
---
Dynamic Lease and Offer Landing Pages
Our dynamic make/model pages serve as a landing page for digital marketing efforts and will dynamically display available inventory so your customers are always seeing an updated list of available inventory, and current offers. 
Not only do these pages serve as a great landing page for ads, but our remarketing system will take the vehicle images that customers specifically viewed on the dealer's site, and use those images to create remarketing banners to continue to advertise to the customer as they browse other websites to draw them back to the dealer's site.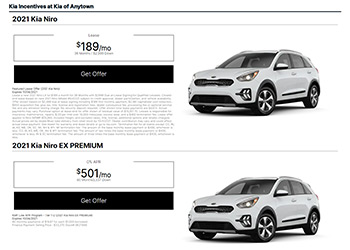 ---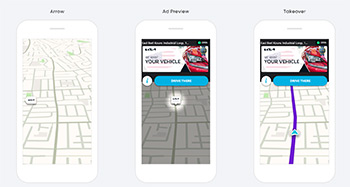 Waze
Every minute, there are over 7 navigations to car dealers via WAZE, and every 5 minutes there are over 56 searches for vehicle service centers on the App. If you don't take advantage of WAZE advertising, you run the risk of having your customers get directions to your competitors' showrooms and service lanes, instead of your own.  
With the WAZE app, dealers have a number of different advertising opportunities to put their brands in front of consumers at the moment they're looking to drive to someone's lot, including ad formats such as branded pins, zero-speed takeovers, and search promotion.