Revolutionizing the way dealers connect with customers.
CarNow is the fastest growing technology company focused on fundamentally creating and converting conversations into transactions by offering Kia dealers a fully integrated best-in-class enterprise platform and tools to market, promote, and quote one-to-one with your customers.
Pricing & Packages
Enroll
---
CARNOW FULL SUITE MESSAGENOW | BUYNOW | UPNOW
Our conversational suite products give dealers the tools they need to guide customers through the entire online shopping experience as they research, discover and purchase all within the same funnel. All of our digital platforms include consultations, configurable workflows, industry-leading integrations, reliable market data in a single integrated digital portal. We offer our products as stand-alone or frictionless combinations to complement dealership vision, objectives and processes.
---
MessageNow:
Live-assisted Chat/Text digital communication platform
Integrate National and Regional Incentives & Offers Available
Virtual Model Brochure Integration
Trade-In Value Integrated in Chat
Vehicle Comparison Tool
DealNow – Live Management Escalation to Dealer Managers
Click-To-Text and Inbound SMS Support
Proactive, Behavioral Engagement ("Poke" or "Pop-Up")
Direct Service Scheduling
Ability to Send Attachments and Videos
Several integrations including Facebook Marketplace, Dealer Inventory, Google My Business Messenger and many others
Reporting Integrations with Kenshoo, Marin, Google DoubleClick, Google Analytics, VistaDash, String Automotive, and more…
Live Management Dashboard with Automated Email Reporting and Complete Reporting Suite
100% US-Based, Concierge BDC Support Center for Managed Services
In-store training and regular account managemen
---
BuyNow:
100% Live Assisted Digital Retailing Solution
Flexible, Configurable & Customizable Entry Point & Workflows
Dealer Inventory Integration
Integration with National and Regional Incentives & Offers
Trade-In Value Integrated in Chat with multiple valuation provider options
F&I Product Integration
Pre-Qualification options
Artificial Intelligence Bot to help guide customers through the process.
DealNow – Live Management escalation to dealer managers
Live Management Dashboard
In-store training and regular account management
---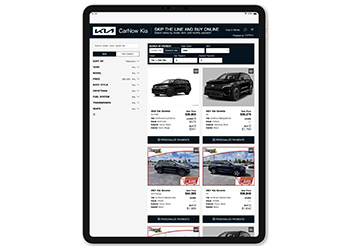 UpNow:
In-Showroom iPad/Tablet sales collaboration tool for a seamless sales experience
Research, negotiate, and finalize customer deal with ease and transparency
Increase customer interaction, transparency and credibility
Intelligent based payment and inventory search
Immediate sales tower negotiation and approvals
iOS Dealer application to manage sessions and live negotiations
Customer-facing kiosk option
In-store training and regular account management