THE NATURAL EVOLUTION OF RETAILING
Dealership profitability relies on having a digital retailing technology that directly addresses and prominently promotes both the 'F' and the 'I' in the vehicle transaction. Darwin Online continues the evolution of digital retailing in F&I, allowing customers to shop the way they demand.
With Darwin, understanding the needs of a consumer are paramount in determining which products and services can best fit. This "needs discovery" can happen as they shop your vehicles and before they ever step into the dealership – right from their mobile device. The platform provides accurate payments that match the dealership's DMS to the penny. Add a combination of algorithms to analyze in real time the customer's answers to a set of needs-discovery questions, deal information and any other details stored in the dealership's DMS and through predictive analytics, it produces a "Driver's Needs Analysis," which provides the best possible payment and scores F&I products based on the buyer's need and the likelihood the customer will purchase those protections.
Studies show that 63% of online consumers surveyed said they would be more likely to buy F&I products if they were educated about them before they came into the dealership. Darwin Online prescribes the products the customer needs 24 hours a day, 365 days a year.
Pricing & Packages
Enroll
---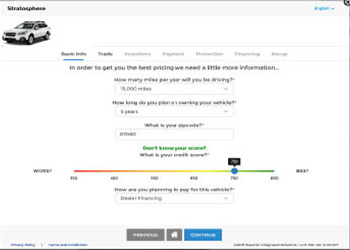 A GUIDED APPROACH THROUGH THE SALES PROCESS
Darwin Online uses a guided approach to offer your consumer more personalization in each step. Darwin Online makes your customer experience personalized by asking them just a few questions and using the data collected in each step to create completely tailored recommendations. Analytics and artificial intelligence go to work ensuring they receive the best possible incentives and payments, accurate buy vs lease comparisons, dynamic cross-merchandising of the top aftermarket accessories on that vehicle and personalized F&I product needs analysis.
---
PROVIDE YOUR CUSTOMERS THE RESOURCES THEY NEED
Customers don't want surprises when the move from online to offline and in your dealership.
Inaccuracy is not an option at Darwin because it's the F&I technology currently used by retailers to deliver millions of vehicles each year. Darwin Online payments will match your DMS regardless of the deal structure and taxation. National and regional incentives, lender rates and residuals are combined with intelligent desking technology ensuring they are quoted the best possible payment. Darwin recognizes that finance reserve is an important component and ensures any rate markup is logically handled depending on a multitude of optional factors like credit score, term, make, model, etc.
F&I should not be a surprise when your customers take delivery of their vehicle. 63% of consumers are more likely to purchase F&I products if they can research them on their own time before finalizing a vehicle purchase.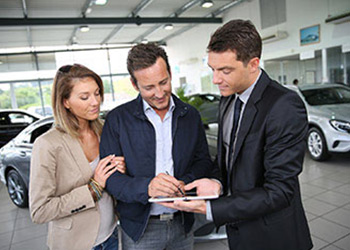 ---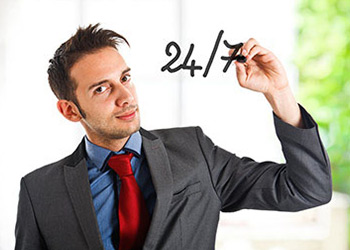 DATA & SMART DECISIONING TECHNOLOGY TO ADDRESS UNIQUE F&I NEEDS
A fully functional F&I department open 24-hours a day, 365-days a year.
Online shoppers desire relevant recommendations and reviews. Using state of the art technology, Darwin Online provides real-time, "in-deal" prescriptive analytics to ensure the consumer is recommended the customized protections that fit their needs.
Deal specific and vehicle specific factors combined with ownership needs are analyzed to make smart recommendations with simultaneous real time rating calls to your product provider.
To satisfy your consumers desire to better understand F&I products, Darwin supplies them with customized product videos and VIN specific data from sources they trust like Edmunds, AAA, RepairPal.com, National Insurance Crime Bureau, and more.
---
INTEGRATE YOUR BACKEND AND CONSUMER FACING SYSTEMS
Integration of your systems provides an efficient process for the consumer and the dealership.
Darwin Online can leverage your in-dealership credit application and paperwork digital tools to reduce transaction times at the dealership. The dealership has full control of the workflows and how much is automated including the ability to handle compliance and fraud with credit score disclosure and Red Flag screening.
To make sure the shopper experience is streamlined when they move offline, Darwin Online sends the comprehensive deal information into the dealership's CRM and Darwin's in-dealership F&I menu.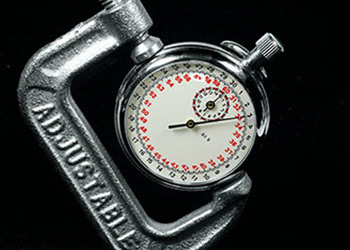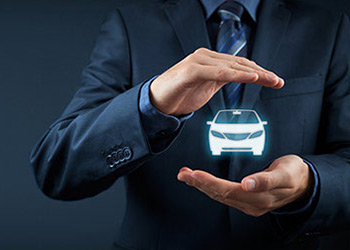 ---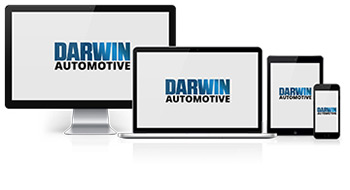 CROSS-CHANNEL EXPERIENCES THAT BLEND OFFLINE & ONLINE
Consumers switch between online and offline touchpoints multiple times during their shopping process. Darwin Online ensures that transition is consistent and efficient. Every consumer has a deal structured "FastPass" for the transactional transparency and efficiency when they move offline. Scheduling test drives, setting appointments and applying for credit to avoid wasting time is important to consumers and easily facilitated in Darwin Online.
The majority of online auto shoppers still want to talk to a human. For those that want to conduct business from home or work, Darwin provides the most advanced technology to connect digitally with any consumer device (desktop, phone, tablet) combined with a phone call.
---
BRING THE DIGITAL EXPERIENCE ONTO THE SHOWROOM FLOOR
Consumers expect the dealership to be an extension of their digital experience.
Use the Darwin Online retailing solution on the showroom floor to streamline and avoid a disjointed experience from online shopping. Using Darwin Online in the dealership provides a streamlined and transparent shopping experience that is improving customer satisfaction and dealership profits.
MORE EFFICIENT
Complete the entire shopping process online.
Darwin has harnessed its patented technology to enable customers to seamlessly purchase a vehicle from the comfort of their own home or workplace. Darwin's "Buy it Now" technology allows the consumer to pay for 100 percent of the vehicle online and electronically sign all the required documents in one single signing ceremony without having to leave their home or workplace, including finance and insurance documents.

---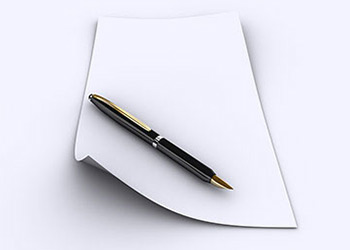 PERSONALIZED ENGAGEMENT AFTER THE SALE FOR CUSTOMERS WHO DON'T BUY F&I PRODUCTS
Continue online retailing with personalized data driven marketing to enable digital self-service purchases.
Utilizing Darwin's patented technology, dealerships can deliver automated, intelligent and highly personalized email or text message marketing directed at customers who don't buy F&I products at the time of vehicle purchase.
This highly-targeted marketing is based on the customer's driving habits including mileage, length of ownership, repair rates, theft rates, and road conditions, all without having to ask the customer a single question. Once contacted, customers are directed to the dealership's website, where they can purchase the products directly from the dealership.