Kia Digital Marketing Solution, Powered by Dealer.com
Connected Websites, Advertising and Managed Services
Through unsurpassed technology, service, and data integration, Dealer.com connects the auto industry's top-performing advertising, inventory merchandising, and digital retailing tools into a connected website platform that empowers Kia dealers to successfully attract, engage, and convert online vehicle shoppers. This connected Solution, now unified with Dealertrack Technologies, makes every aspect of automotive retailing more profitable for Kia retailers and more enjoyable for vehicle shoppers.
Benefits include:
Digital solutions that attract and engage customers at every critical touchpoint.
Technology integrated with Dealertrack that streamlines the online to in-store workflow.
A streamlined vehicle purchase process that frees dealers to focus on customer service and core business operations.
Comprehensive analytics that empower dealers to translate strategic insight into sustainable success.
Pricing & Packages
Enroll
---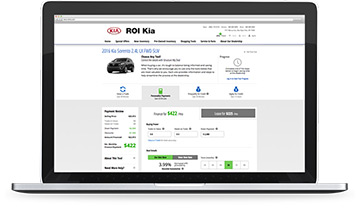 As car shoppers' expectations increase, and buying behaviors begin to migrate online, Dealer.com Seamless Websites featuring Digital Retailing tools from Dealertrack give you the ability to drive high-value leads from low-funnel shoppers. Digital Retailing allows customers to shop by payment, calculate vehicle-specific payments, value their trade-in, apply for financing, and even explore F&I products. This efficient, intuitive workflow – completely integrated into your Dealer.com Seamless Website – fosters a more transparent, convenient experience for shoppers while providing you with better leads, faster deal initiation, and complete control over your pricing and merchandising strategy. Digital Retailing Elite: PaymentDrive®, FinanceDriver® and TradeDriver®, MenuDriver® and Reserve It Now.
Learn More about Digital Retailing
https://www.dealer.com/products/digital-retailing/make-deals/
---
Seamless Websites
Dealer.com's industry-leading websites provide uncompromised performance and continuous shopper engagement across every screen experience – whether desktop, tablet, or smartphone. Every site can be edited and configured intuitively from within ControlCenter, our single login back-end user interface. Page edits can be made to individual desktop, tablet, or smartphone experiences, or can cascade throughout all devices for automated convenience.
Every device experience is manageable and configurable in one intuitive Composer view, offering centralized control that combines the power of mobile automation with the flexibility of customization. Either make one update that cascades across every device experience automatically, or customize the experience across specific devices based on your particular strategy or insight derived from integrated visualizations like heat mapping and widget mapping, multivariate experiments, and other page-by-page analytics.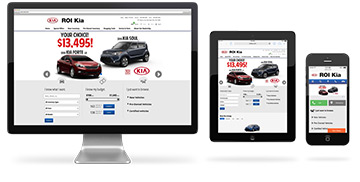 ---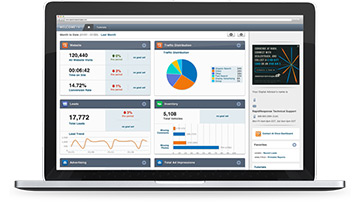 Control Center
ControlCenter centralizes your products and services, and also offers 24/7 access to educational and training tools. Learn the essentials of every tool at your own pace with short, task-based tutorials, or take a deep dive with an expert during weekly interactive webinars. More resources are always being added.
Carfinder: automated inventory alerts allow customers the chance to tell you what type of vehicle they are looking for, and sends personalized emails when their vehicle of interest arrives on your lot.
ePricer: a lead generator on your website that alerts shoppers to a special price on specific vehicles once they submit an ePricer lead form.
Composer: a seamless, intuitive, what-you-see-is-what-you-get website editor. Every device experience is manageable and configurable within one Composer interface, offering you centralized control and customization.
PageBuilder:Intuitively add, configure, and manage pages and page components within Composer for automatic synchronization across every device, or make adjustments or additions to mobile or desktop experiences separately for total control.
Analytics: ControlCenter's analytics measure every aspect of your digital program, from "30,000 feet" to the ground level. Customizable dashboards offer single-point or group-wide analytics and measure everything from high-level campaign impact to the performance of every individual tool. Plus, results are custom-tailored to both your own specific goals as well as overall industry benchmarks.
---
Visualization Tools
Accessible through Composer, two integrated click-tracking tools provide easy visualization and insight into customers' shopping actions. The heat map displays webpages' frequently viewed "hot spots," while a widget map tracks the number of clicks on various website features.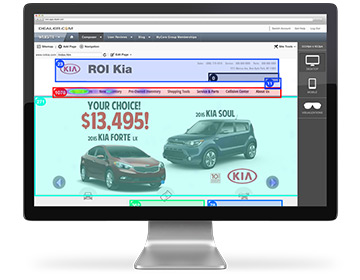 ---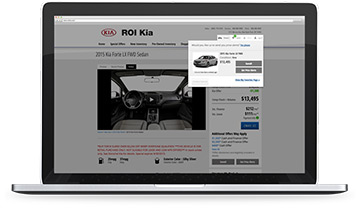 MyCars™
Proven to reduce vehicle time on lot by seven days, MyCars is a convenient tool at the top of your dealership website that fosters continuous shopper engagement by providing a shortlist of recently viewed cars and the opportunity to save them and sign up for alerts.
---
Video
Carflix®, our patented video technology, generates a compelling, narrated video for every vehicle in your inventory. Each video is combined with an SEO-friendly video blog post to drive more traffic to your site, and is customizable and trackable to optimize performance. Best of all, Carflix is totally turn-key and automated, so you enjoy the benefits of video – longer time-on-site, increased SEO value, and more conversion – without any technical knowledge or extra time investment.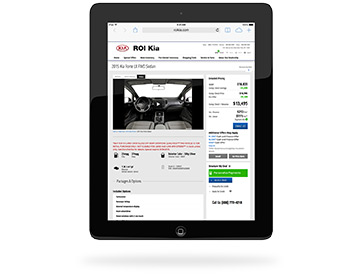 ---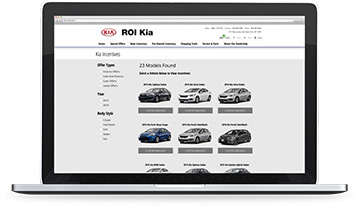 Incentives Management
Seamless Inventory integration means OEM and dealership incentives are delivered accurately across your website, including vehicle information pages, where shoppers are the most likely to convert. The fully-automated process ensures total control and consistency – from your own specials to group or OEM-level incentives. And it's easy to adjust everything – from page appearance to specific publishing rules.
---
Inventory Digital Marketing
Dealer.com synchronizes everything you need to digitally market and merchandise your lot. Connected tools bring vehicle data to life through automation and analytics, powering successful pricing and brand strategy across your website and syndicated everywhere your customers shop for cars. Success starts with Inventory Lifecycles – which combines the industry's most powerful automation with complete visibility across your digital strategy. Lifecycles provides centralized insight into every vehicle on your lot, the ability to forecast effectively, and the power to execute profitable merchandising strategy accurately and instantly on your site and throughout the web.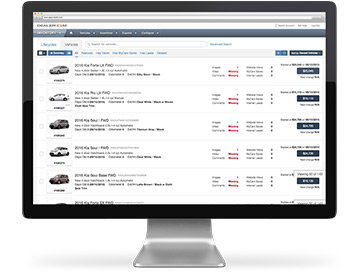 ---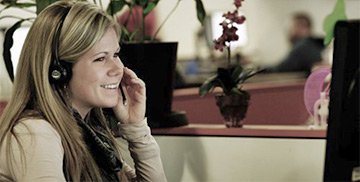 Performance Management
Dealer.com made a multi-million-dollar investment in client experience. We evolved our client service team into an organization centered on proactive, consultative conversations focused on a dealer's needs. Performance Management is a battle-proven service philosophy used across Cox Automotive–including VinSolutions and vAuto.
---
Dealer Support
Dealer Support technicians set the industry standard for 24/7 technical help. They work down the hall from the people who build Dealer.com's products, partner closely with Digital Strategists, and receive continuous training. If you need help immediately, there's no better prepared resource, and most issues are resolved in one call, while you're on the phone.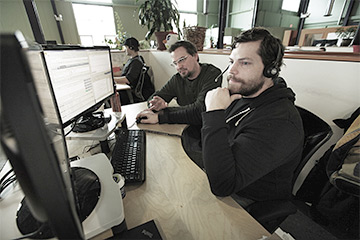 ---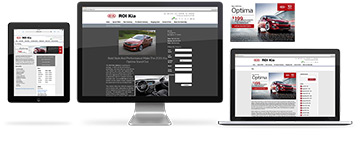 Managed Services
Through three distinct but connected offerings – each aligned with overall dealership digital strategy, coordinated through a primary point-of-contact, and executed on the industry's top digital marketing platform – Dealer.com Managed Services deliver uniquely efficient and effective monthly campaigns across every critical digital challenge.