The average new Kia website sees a documented increase in lead volume of 250%!
DealerOn takes immense pride in our commitment to providing the ultimate customer support experience for our clients. In fact, our unflinching dedication to amazing customer service has earned us four straight Driving Sales awards for Top-Rated website vendor. We deliver on our commitment to our customers by generating measurable, quantifiable growth in leads, sales, and ROI to our dealers.
Pricing & Packages
Enroll
---
Real Results from Real Customers
"Our Kia stores have been working with Dealeron for over 4 years. When we switched to DealerOn we saw our website leads increase dramatically -- over 300% in the first 90 days on their platform. Since then, we have been ranked top in the country for Kia dealerships. They have helped us stay ahead of the curve with our website and mobile website."
- Jim Sipala (Dealer Principal Kia of Westchester and Coatesville)
"We switched to DealerOn from one of the largest providers in the Industry. Our leads have basically doubled and DealerOn's customer service is fantastic!"
- Mike Cooley Chief Information Officer, Crown Automotive
---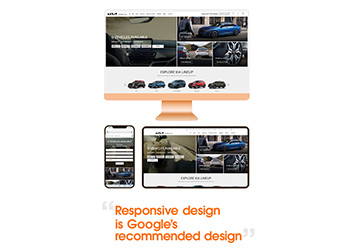 Responsive Websites
DealerOn's websites use our Responsive Platform, Chameleon, to deliver the optimal experience to your desktop or mobile customers. We use Responsive Design (as opposed to a Multi-URL, Adaptive, or Seamless platform) for the same reasons that Google recommends it
SEO Responsive Technology is the only solution that doesn't require User Agent Detection that plagues Google's bots when crawling your site. A single URL for each page (using Kia.com for desktop and mobile instead of iphone.Kia.com for mobile phones) improves indexing and consolidates all inbound link value.
Conversion Responsive is better for User Experience because (as Google states) it doesn't rely on User Agent Detection.
Ease of Management Responsive Design requires less management, because you don't need to create and search optimize multiple versions (Desktop, Mobile, Tablet) of the same content.
Future Proof According to Google Analytics, in 2015 the average Kia website had visitors using more than 500 different screen resolutions, and that number is growing! A Responsive Platform is the ONLY way to future-proof your site for all devices – phones, phablets, watches, glasses, other wearables.
---
Behavioral Targeting System (BTS)
Dynamically Serve Intelligent Offers
Increase Vehicle Sales 10-20 units/month
Increase Service RO's
A/B Test Offers in Real-Time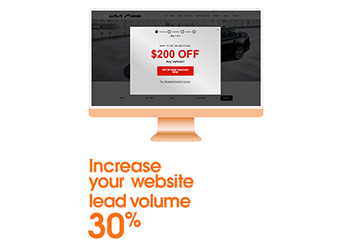 ---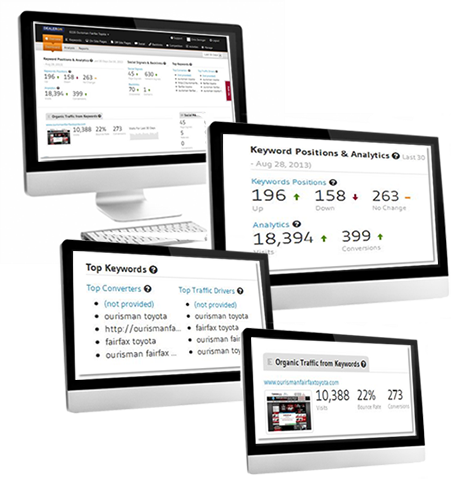 Web Presence Optimizer (WPO)
Track and Manage Your Entire Web Presence, including On-Site SEO, Off-Site SEO, Social Media, etc. Features include:
Daily Page-level Keyword Ranking Reports
Local Keyword Ranking Reports
Desktop vs. Mobile Search Engine Keyword Ranking Reports
Competitor (up to 4 competitive dealers) Analytics
Keyword & Backlink Reports
Keyword Research Tools
Automated Monthly Reports
---
Mobile Lead Generator
Increase Mobile Leads by 30%
Increase ROI on Your Existing Mobile Advertising
More than half of all visitors to a dealer site are on a mobile device
33% of US consumers redeemed a mobile coupon this year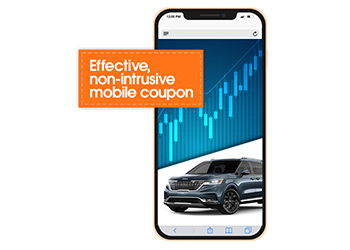 ---
Elite SEO
DealerOn's Elite SEO add-on package is unique and unrivaled in the industry. Our nationally recognized Local SEO experts spend dozens of hours each month building out:
On site signals - DealerOn creates specific, targeted content for maximum local exposure. Content is optimized and tweaked on an ongoing basis for local searches. Dealers also receive one custom blog post each week.
Off-site signals - DealerOn builds relevant links to the dealer's website, but with a focus on local links. A full citation audit is included, and all incorrect or incomplete are cleaned up and completed.
Social media management - Dealers receive daily posts on Facebook, Twitter, and Google Plus, increasing local engagement. Incoming comments or inquiries are answered by our team, and we consult with the dealer's social team to maximize their returns on their social efforts
Reputation management - Our team consults with each dealer to build out an effective strategy for increasing positive online reviews, monitoring each review site on a daily basis. DealerOn's team crafts appropriate responses to minimize damage from any negative reviews.
---
Customer Support
At DealerOn, we pride ourselves on delivering world-class, industry-leading customer service to our dealer partners. We have won 3 straight "Top-Rated Website Provider" awards, and we strive to provide a truly remarkable customer experience to all of our clients.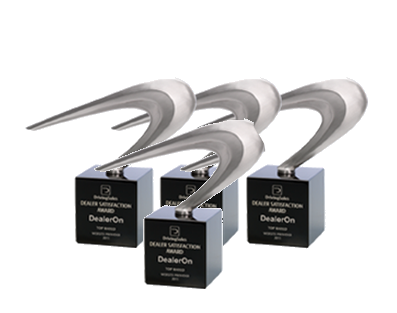 ---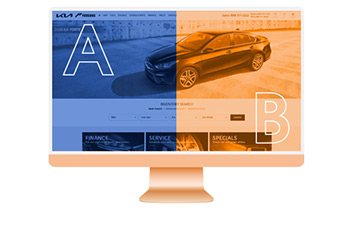 A/B Split Testing
DealerOn has pioneered A/B testing in the retail automotive space. Your site will immediately reap the optimization learnings from each A/B test that we conduct on our platform, and you may A/B test behaviorally targeting offers on your own site with our Elite Website Package, details coming soon.
---
Google Reporting
All of DealerOn's websites are built, optimized, and serviced by Google Analytics Certified digital consultants. Your website is not just built for conversion, it's designed to maximize leads, phone calls, coupon prints, and Google Map views and to track each of these events for optimization purposes.