Drive your digital sales.
Dealers using AutoFi provide shoppers with a transparent, simple, and safe way for customers to purchase vehicles—both digitally and in-store. The platform is proven to increase cars sold per salesperson per month, with less resources. This leads to more profitable dealerships and happier customers.
With AutoFi, customers can build and work their own deals online or in-store 24/7, whether on their own or with a salesperson. Customers can receive real-time lending decisions within 90 seconds from captive lenders and partners of ours like Chase, Santander, Bank of America and others. AutoFi dealers are selling 13.5 vehicles per person per month on average versus 9.75 per month, a 39% jump. Dealers using AutoFi enjoy a PVR of $1761, 51% above baseline levels.
Pricing & Packages
Enroll
---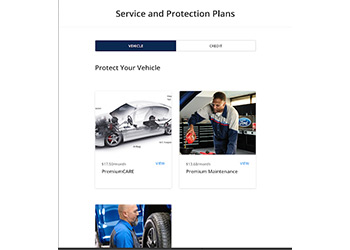 F&I Plus
On top of AutoFi's base Gold platform, customers can add F&I Plus, which presents 100% of your financial products to 100% of your digital shoppers. Dealers using the product see customers self-select an average of 1.5 products. With F&I Plus, our dealers provide complete transparency by showing consumers the total cost of the vehicle as well as additional monthly charges before decisioning.
AutoFi dealers find value in our built-in network of lenders; or, you could customize the module to present your existing lender network. Lastly, you can improve the shopper experience with the ability to use rich content (video, images) from F&I providers during the checkout experience.
---
Credit Estimator
In a recent survey, 63% of car buyers said an online credit approval would improve their overall satisfaction with the dealership. Many consumers start their journey figuring out what they can afford.
Many consumers start their journey figuring out what they can afford. That's where AutoFi's Credit Estimator comes in. AutoFi's Credit Estimator offers a soft pull on credit, giving consumers their FICO ranges — and confidence.
Consumers will also see personal estimates that consist of a maximum monthly payment, and a maximum loan amount without even providing their Social Security numbers. Once customers confirm what they can afford, they can go straight into a first pencil without having to re-enter any personal information. Dealers receive enhanced lead opportunities with more customer information helping guide the purchase journey. It's all about boosting conversion rates further through a frictionless process.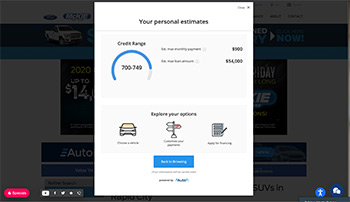 ---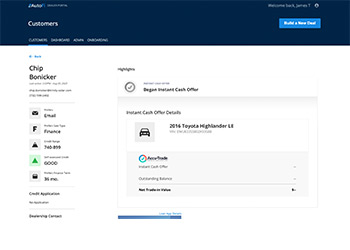 Trade ICO
AutoFi's new Trade ICO gives dealers the ability to serve up firm trade-in offers, out of store, in minutes. Integrated with Accu-Trade, True Car and Car Story, Trade ICO presents real, actionable offers in fewer than 90 seconds.
For dealers who don't currently work with an ICO provider or work with one we currently don't integrate with — you can use our ICO platform to capture vehicle survey questions and valuable vehicle pics from consumers.
---
Quick Quote
AutoFi dealers can send quick quotes automatically as their first responses, right from their CRMs. They can respond to and prioritize leads inside or outside store hours, auto-populating and personalizing with consumer name and vehicle of interest.
You can also send QR codes for shoppers to pick up precisely where they dropped online, inside the showroom — significantly increasing efficiency for internet lead responders.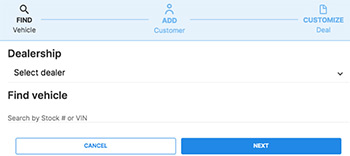 ---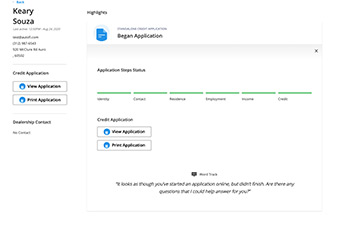 Standalone Credit App
With this feature, AutoFi dealers help shoppers get pre-approved before they select a specific vehicle. It saves and preserves customer data during any drop in the buying process, pushing the information to your CRM. It also pre-populates forms with existing data, delighting customers by saving them time and energy.